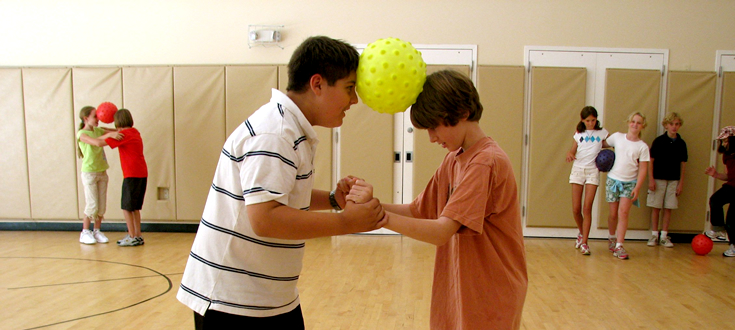 Art - Our visual arts program is based on the principles of choice-based art education. The teacher presents new concepts or techniques in short lessons and reinforces learning one-on-one or in small groups. Students have access to materials, tools, and resources in prepared areas throughout the classroom and are responsible for setting up their own work spaces, generating original ideas, and pursuing and sharing their own creative passions.
Music - From live music in the lobby every Monday morning to seasonal coffee houses and community concerts, music permeates life at Stoneridge. The music curriculum meets the needs of musicians at every age – from music circles and games in the Toddler House to choral singing and small group instrument lessons for older students. Private music lessons are offered after school at an additional charge. Our approach blends elements of John Feierabend's Conversational Solfege, Orff-Schulwerk, and the Kodály method.
Physical Education - Based on the philosophy of developing strong bodies in tandem with strong minds, our physical education program focuses on skill building, coordination, teamwork, and goal setting in a noncompetitive atmosphere. From simple games that promote the development of motor skills and cooperation in young children to activities such as swimming, low- and high-ropes courses, and after-school soccer, basketball, and lacrosse for older students, our physical education program builds strength, self-esteem, confidence, and trust.
Spanish - Our Spanish program takes full advantage of children's natural curiosity about learning a foreign language. In Toddler House and Children's House, Spanish is presented in small group lessons with an emphasis on simple words, songs, stories, and traditions. In Lower and Upper Elementary, calendar study, short sentences, and vocabulary are supplemented by books on the global influence of Spanish culture. Middle School students work on proficiency with their peers in study groups organized by level of fluency.
Library - The Stoneridge library provides our students with an accessible and welcoming place for research and pleasure reading. Each classroom utilizes the library differently, in ways appropriate for the age group - with weekly visits for Toddler House, Children's House, Lower Elementary, and fourth grade; and independent visits for Upper Elementary and Middle School. Children at all levels learn library literacy skills and literature appreciation as part of their library experience. Please check out our library blog at: stoneridgecms.wordpress.com This blog will serve as a resource of website links as well as a way for students and faculty (and parents!) to discuss literature and ideas.